Hello everyone.

I just wanted to post my weekend in pictures. It was awesome n very exhausting!




Friday the hubs n I picked up the little one n went to see Harry Potter. It was cool. It was my first HP movie so with no history of it I was lost!






Saturday was the most exhausting. I remember once loving to shop now its overwhelming to me. She wanted Tom shoes, apparently I want a pair now too cause they're so comfy lol! Anywho, we had Starbucks, sat in the park n caught up, shopped then met hubs for dinner! Oh yea n she fell asleep at the dinner table! SMH!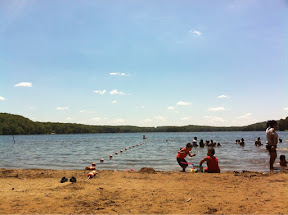 Sunday me, hubs, the parentals n my mom's BFF went to Lake Tiorati. So relaxing n not ghetto like Lake Welch! I love being surrounded by all things nature. We swam, soaked up the sun, played dominos n bbq'd.

T'was the perfect Sunday! Oh summer how I've missed you!!