Do you love burning candles? Does your candle come in cute packaging that can be reused? Don't throw the candle holder away. Reuse it!!! Use it to burn other candles OR better yet use it for your makeup brushes!!!!

To remove the candle wax from its packaging simply put it in the freezer for a few minutes or soak in cold water. The cold will make the wax easy to remove. Mine popped right out.

After you remove the wax clean the jar / candle holder. Dry it. If you have plant filler pour some in. Rice will work also but it won't look as appealing. Rice works better with an opaque glass / holder. Voila - you now have a brush holder.

I have 4 other holders I bought from Michael's a couple of years ago but this method is much cheaper! I'll be using this brush holder to separate the dirty brushes from the clean ones.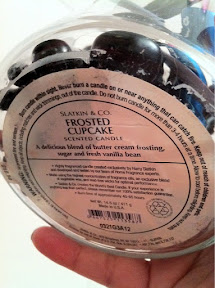 Dirty brushes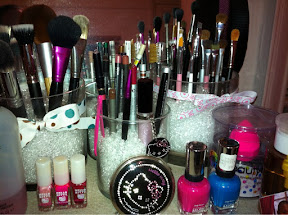 These are from Michael's Craft Store. Not much different huh?!

Hope this tip helped you save a few bucks!! Let me know how it works for you! :-)