Hola beauties!
As some of you may know or may not know MAC is rereleasing Turquatic on Aug 11 2011. I've gone through several bottles of this perfume over the years. It's fairly small and cheap. The scent somewhat reminds me of D&G Light Blue. I've been told by several MAC associates that both men and women can wear this scent. I can def'ly see how. It is not a super sweet / feminine scent yet it's not a masculine scent. Make sense?
My take on the rerelease...
• My gripe is that the prices have gone up. I've always bought the 20ml for about $20-$22. With the rerelease the very same bottle is going to cost $27.50. I guess we'll be paying extra for the design they added.
• The good, it'll now be available in 3 different sizes. YAY!! Guess which bottle I plan on getting!
20ml - $27.50
50ml - $49.50
Rollerball - $20.00
I took photos of my bottle so that you can see how small it actually is. Keep in mind the perfume is encased in the clear section if the bottle it does not go down to the bottom/black part of the bottle.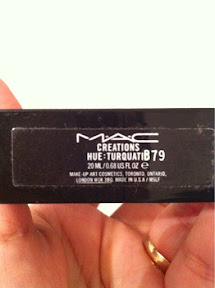 I'm excited about this release. Like I said, I've always loved this perfume and I'm happy there will be size options.
Will you be purchasing a bottle?