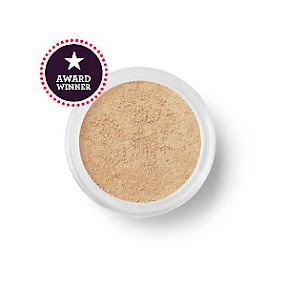 Hello Gorgeous!

This is somewhat of a random post, one that I did not plan on writing. I was randomly sorting thru my stuff and decided to put on some Well Rested for eyes and text the picture to my niece since she always complains about her dark circles. I originally had planned to text her the picture but I decided to share it with you instead.

I decided to dab just a bit on my concealer / makeup free, tired eye to show (my niece) exactly how much coverage this offers on its own. Usually when I use it I dab it over concealer to set it using a concealer or blending brush and the results are AMAZING. My dark circles are POOF - gone!!

Why do I love this? Well, as you can see it covers well on its own. A little goes a long way!!! It's a fine, yellow based powder and it does an amazing job @ concealing my dark circles (as you can see). It sets my creamy concealer. This doesn't settle into fine lines and it brightens my eyes making me look more awake - yay!

Well Rested retails for $18 on the BARE ESCENTUALS site and at SEPHORA.

I took a picture so that you can see for yourself.



Can you tell which eye I applied Well Rested on?