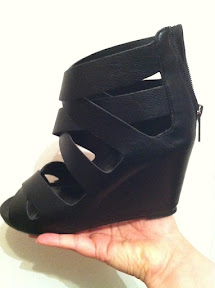 Most of you know that when it comes to shoes I tend to steer away from heels. I love them, I think they make you look tall, lean, sexy and it gives the butt a lift. Unfortunately, it never fails, every time I wear heels I fall! My last accident which involved me taking a tumble down the stairs scared me from ever wearing heels!!! Last time I wore them was about 6 yrs ago *gasp* I know! Don't get me wrong there are a ton of AMAZING flat shoes but let's face it, they don't do for you what heels can!

Anywho, I walked into target and found myself at the shoe dept. These shoes stood out to me. While the hubs wandered off I tried them on. I was surprised at how frigging comfy they were. Wedges gives u support that heels do not AND they made me look ummm - SEXY! For $30, hey why not. I'm hoping they get me comfortable enough to where I can one day where heels again. In the meantime wedges it is. I'm in love with these little inexpensive babies!!! I love that I can dress them up or down. My summer footwear consists of ONLY flip flops but these wedges will just add some spice to my collection!


I'm super curvy and I don't mind!!!



Thanks for reading!