I'm currently on the train and I decided to post some pics I so vainly took of myself @ work. It was and insanely slow day. Can you tell? I posted twice thus far lol.

Onto the pics...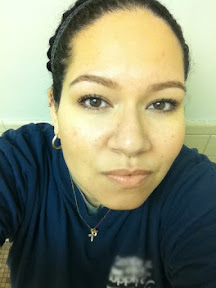 Face is some what bare without looking dead (example: yesterday's face!)...
Concealer
MSF Natural
Blush
Brows
Mascara
My fav lip combo - Revlon Soft Nude l/s topped by Revlon Colorburst in Sunset Peach
All this was applied on the train this morn on my way to work.
Mwahz! Till next post!!!
Today is a new day 4/12/11
Decided to post today's face on this post! Same colored shirt, different shirt. Lol make sense? It's my work shirt n i have a ton of them! I did the same exact thing on my face except I went with a darker lip and added some brow powder to my upper lash line. Makes some what of a difference...