Hello beauties!

Some of you know I love mascara and I'm always trying out new ones. I gave Maybelline's Falsies a try some time ago and I thought it was just ok. I wasn't blown away, yet I kept hearing people rave about it. I decided to give it a try, a different formula this time.

I was running extremely late to work, woke up super late and therefore I had no time for makeup. I left my makeup bag at home so yea, I couldn't even apply it on the train. Before getting on the train I decided to stop by my local beauty store to pick this baby up...




As soon as I got on the train I applied it. Made a mess in the process. A moving train + unsteady hand + mascara = a mess! Lol. Hence why you'll see my hands a bit dirty.

My thought was "hmmm I'm liking it so far". It was just opened so it was a bit too liquidy for me but usually mascaras dry up after several uses. So I just have to give it some time.

I applied 3 coats. It def'ly gave me length and some volume. So far I'm happy with it, much happier than I was the first time that's for sure! I'll continue to use it and we'll see if this makes it to my top mascaras list :-)

Hands full of mascara n chipped polish - SMH!


No mascara on left eye. See a difference?

Pics were taken from my phone (as usual). Used a new feature and OMG you can see all my imperfections, huge pores and all! Sorry - lol. Again keep in mind besides mascara I had noooo makeup on!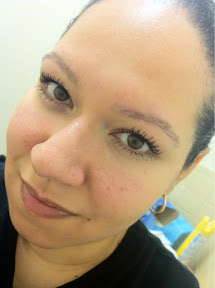 Thank you for reading!
Glossy kisses *mwahz*
Erika