Hello my pretties!

Hope everyone is well! As for me, well I've been going through ups and downs. That's life tho - right?!

Anywho, I'm at work and our entire system decides to crash! This left me with spare time on my hands so I decided to clean out my purse! I have made "a what's in my bag" video but I don't think I went into much detail about one of my favorite items! A purse organizer I bought last year @ the container store, retails for $19.99...

I originally bought this for my LV Speedy 30. If you're familiar with the bag you know it's droopy, roomy and everything gets lost inside! I love this organizer so much I transfer from purse to purse. It makes the transition soooo much easier! I carry my life in my purse yet I keep my bag extremely organized, as I do everything else lol!

If you're:
#1 A purse lover
#2 Neat freak
Then you need this in your life! :)
It has 6 pockets and a little hook thingy to hang your keys...take a look...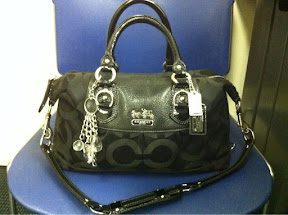 Hope you enjoyed!!!!
- Posted using BlogPress from my iPhone