I woke up extra early and went to MAC @ Grand Central because lucky for me they open @ 8am.

So I got the gloss & lipstick. As soon as I got on the train I took my mirror out and applied the lipstick. First impression? Looks like other lipsticks I already have (and like). MAC's Creme d'Nude came to mind but once I get home I'll swatch and compare the two. Then while at work I was taking pictures of it and it darned on me that this also looks like Revlon's Soft Nude, Soft Nude being a bit more pinky/peach. See...






I also think that paler girls should def'ly test before buying the lipstick. It can have that "dead" look which personally I like but it's not for everyone IMO. A smokey eye and this lipstick will look great - that's just me.

The gloss is a bit more darker and seems more wearable.

*lipstick on top, gloss on bottom*




Overall, if you're into nudes then you'll want to add this to your collection BUT I'm sure you'll have similar colors.

I plan on swatching my other other nudes and do some comparisons once I get home so STAY TUNED.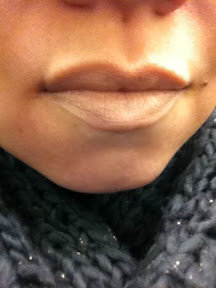 No makeup today! Just the Gaga-fied lips lol!

In order from top left (all MAC unless otherwise stated):
VG Gaga 2
Revlon Soft Nude
Creme d'Nude
Myself
Innocence, Beware
BOTTOM TWO:
Myth
Tiger Tiger

Thank you for reading <3
- Posted using BlogPress from my iPhone