I don't have many face charts but it's funny that the ones I've done have been either when I'm upset or in bad weather.

Anywho, I have yet to see the BLACK SWAN movie but I instantly new I wanted to try the makeup on me. Unfortunately, laziness prevented me from doing it on myself. I just didn't want to deal with the hassle of clean up nor did I want to aggravate my face. So I decided to try it on a face chart. Not easy at all! Def'ly fun to do tho!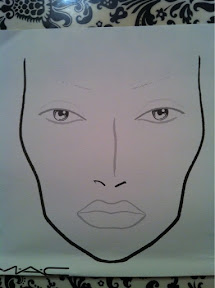 Hope you enjoyed and thank you for reading!
- Posted using BlogPress from my iPhone